RapidStaff wants to recognize the clinicians who exemplify the RapidStaff values. Integrity, Internally Driven, Fun, and Respect. Our February spotlight falls on two people who bring their experience, skills, and dedication to each travel assignment. Meet Micayla Ramos and Dennis Williams, a couple who travels together and makes a difference along the way!
Name(s): Micayla Ramos and Dennis Williams
Specialty: MIcayla: ICU Dennis: ICU/ER
Number of RapidStaff assignments: Micayla: 4 Dennis: 5
Number of years with RapidStaff: Micayla and Dennis: 4 Years
Why do you love working with RapidStaff?
I love working with RapidStaff because I know I am more than a number. The administration and leadership take the times to get to know the nurses they hire and as nurses we have built a bond with RapidStaff over the years because of that.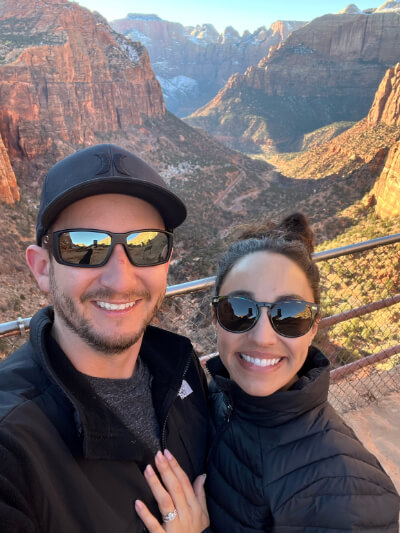 What makes travel assignments rewarding for you?
I think the most rewarding part of traveling is experiencing new areas but more importantly having new experiences. Since working with RapidStaff, Dennis and I have had the opportunity to work directly with communities during the pandemic and assist with reunification for immigrant children coming over the border. The experiences we have had while working with these communities have been some of the most rewarding work of our nursing careers. We would never have had these experiences if we hadn't been working with RapidStaff over the years.
Describe a time where you felt more valuable/respected because of the experience and knowledge you gained from your RapidStaff assignment.
We have both felt valued and respected when we have received calls directly from Jennifer Walsh or Alisha Craig asking if we can come to a project in a leadership capacity and start a project from the ground up. The amount of leadership and dedication it takes to not only start but run a project is immmeasurable. Knowing that you are there in a leadership role representing RapidStaff and that this company believes in you and your ability, it's a very rewarding feeling as not only a nurse but as an individual. Dennis and I have both run projects with a staff of over 50+ nurses and knowing that you are supported in this role because of the relationship you've built over the years it is very rewarding.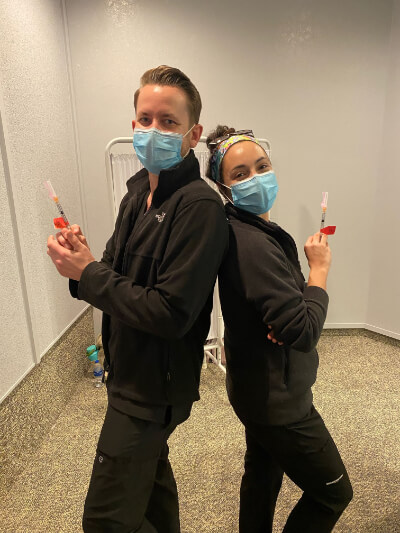 How have you accomplished some of your personal and professional goals by traveling with RapidStaff (i.e. family life, financial freedom, more personal freedom, etc.
Since Den and I are both nurses the financial reward has been incredible. We are both in our early 30s and have a zero-debt life and lifestyle. I remember when I first started college and I told Dennis that my financial goals in life were to pay all my bills in full at the end of every month. We look back on where we started and where we are financially now, and we never dreamed we would be living this financial freedom. Working with RapidStaff over the last few years helped to push us to this financial freedom that we live in now.
Why Travel with RapidStaff
RapidStaff is looking for experts with compassion like you! We staff clinicians of all specialties, allied health, technicians, and non-clinical support staff (see the list of specialties). Below are just a few of the reasons professionals join us:
Competitive Pay
Healthcare Jobs at Premiere Hospitals
Resume Building Assignments
Quick Start Dates
License Reimbursement
Opportunity to Make a Difference
Your recruiter will work with you to find your perfect opportunity that meets your desired salary and professional goals.
Apply today and complete your RapidStaff profile with your recruiter!